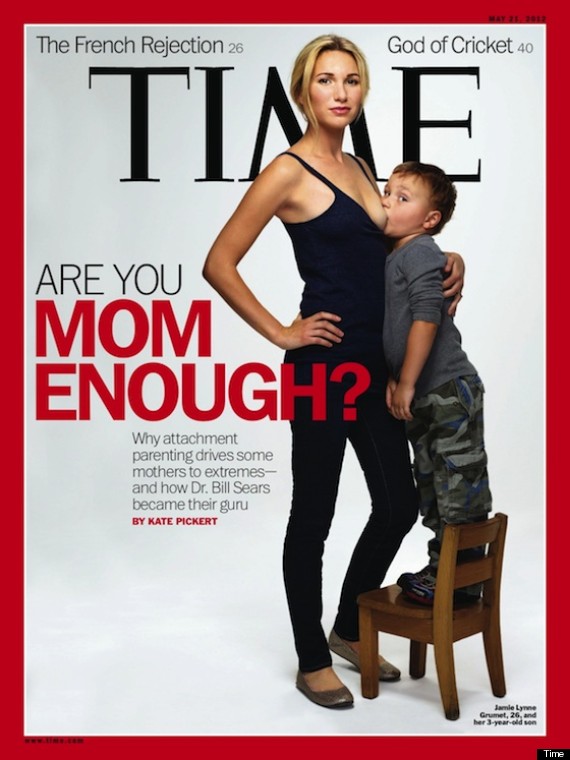 Unless you have been living under a rock, you have by now caught a glimpse of the controversial cover of the
latest Time Magazine
(seen at right) where a woman is pictured breastfeeding her three year old. I figured everyone else is talking about it, so why don't I chime in and give my two cents (or $1.25.) Let me first start by saying that I have not read the article, as I don't subscribe to Time, I am simply commenting on the cover images, the idea of attachment parenting and my feelings when I saw this yesterday.
Let me give you a little background on my "parenting style" before I delve into my opinion on the cover and topic at hand...
As for breastfeeding...M was born 4 weeks early, and was just a tiny 5 pound little peanut. I had full intention of breastfeeding her for an unplanned amount of time, but had major difficulty due to her early birth, her size, the size of my gigantic melons, etc.. After four weeks of trying my hardest, and visiting with Lactation Consultants, I gave up and just exclusively pumped until she was 16 weeks of age. At that point I was exhausted and felt like a cow and just wanted my body back, so we went to formula after my massive frozen supply ran out. I felt like I had done my part as well as I could have, and didn't feel guilty for a second switching her to formula.
As for co-sleeping...there were times when M was first born that she slept between us, propped up on a Boppy (yes I know you aren't supposed to do that, but Mama needed her sleep), but other than that she has always slept on her own, whether it be in the carseat next to our bed for the first couple months (she had terrible reflux) or in her crib next-door to us at 12 weeks. To this day she does not crawl into bed with us in the middle of the night - she is happy where she is, and I am happy that she is happy, as the two times she did sleep with us (due to sickness) I didn't sleep a wink. Plus she tends to end up sideways and forcing us to the edge of the bed with her extra long legs. My husband and I like our bed to ourselves.
As for baby wearing...I was and am all for it. M spent a good deal of the first 6 months of her life attached to me in the Moby. I love having my hands free and she loved being all wrapped up in a baby cocoon against my skin. I did use the Ergo a few times after she outgrew the Moby, but was never a huge fan of it, so soon after I went to a stroller. I cannot imagine M, now 2.5 years old, being worn by either my husband or I though. She is probably about 40 inches tall and weighs 30 pounds and would rather walk on her own for sure.
Ok with that all said, let me get to the subject at hand - the Time cover and other images of women breastfeeding their older children. My first reaction - GASP! My second reaction - I am totally uncomfortable looking at these photos! My third reaction - I cannot look away!
Let me say this, breastfeeding is a beautiful, natural thing. I am totally comfortable with women breastfeeding in front of me. I have seen many a friends boobs go into their babies mouths, and I am fine with it. If I could have done it I would have, and plan to give it the old college try again with baby number two. But there comes a point in time where it gets a little uncomfortable for me personally (and I know people will have problems with this, but again, this is JUST ME)...when your child can walk and talk in full sentences, and has a full set of teeth, then it becomes (dare I say it) a little weird to me. The thought of breastfeeding M right now, who is very tall for her age, seriously gives me the heeby jeebies. And I don't know if that is because I never actually breastfed her to being with? Or the fact that she speaks in complete sentences and is the size of a 4 year old.
Isn't there a time in a child's life where it isn't nutritionally beneficial anymore? And I am asking that in all seriousness, because I do not know. When a child is 5 years old and still breastfeeding is it not just a comfort thing for both the mom and the child? And as I am writing this I think "even if that is the case, what is wrong with comforting your child like this?"
Why does the thought of this make me so uncomfortable? Why do I think it is weird when someone breastfeeds for an extended period time, when it is the way it has been for millions of years with mankind?
My other thought is that I look at my boobs as a sexual part of my body, and to have them exposed to a child that could possibly understand that makes me uncomfortable. How do you have a sexual relationship with your husband if you have your young kids pawing at your chest all day to have a snack? Doesn't that de-sexualize your breasts? Again, I am asking for some clarity on this all, as this is just the way I feel about it.
The co-sleeping, or family bed, thing I understand even less. I love my child more than I can explain, and love giving her hugs and kisses, and holding her in my arms, and sitting with her on the couch, or having her on my lap, but do I need to have her next to me at every waking (or sleeping) hour of the day? No I don't. And what does the co-sleeping thing do for your relationship with your husband or partner?? You have another human being in between you every time you go to sleep - how do you get it on? Or do you not? And what does that do to your relationship?
I am not saying this is all wrong, it is just not right for me, and I would love for someone to explain why it is right for them. I promise not to judge, as I am sure you feel it is as right for you as it isn't right for me.
My problem with these photos is that I feel like they are posed the way they are for shock value - and let me tell you I was a shocked. (Not as much as I was when Prince Robert Aryn (the boy prince from Game of Thrones - son of Lysa) was still at his mom's breast at the age of 9, and they clearly depicted that on the tv show!) I feel like these moms are just depicted as food sources, with the kid on the chair or the little girl staring at the camera. I feel like it should have shown a more nurturing side of the act of breastfeeding - but is there that side when the kid can tie his own shoe and whip out your boob on his own? I feel like the cover image should have a bubble above the kids head saying "yeah that's right, these are my boobs! You gotta problem?"
And I have an even bigger problem with the subject line "Are You Mom Enough?"WTF Time Mag? Am I not a good enough Mom, or "Mom Enough" because I don't still breastfeed my giant child and don't have her create a wedge in between my husband and I in bed? Are mother's that formula feed their babies not good enough moms? If I feel uncomfortable with this whole thing, does that make me a bad Mom?
A friend of mine recently wrote an
eye opening article for Isis
that you should all read on this subject. Nancy talks about how this type of parenting has been going on for millions of years, so why do we feel the need to dissect and discuss at length all of the sudden? Why do we feel the need to defend our styles of parenting to each other?
When I started writing this post I was totally in defense mode (and I know I seem somewhat defensive still - thanks TIME!) and Nancy made me realize that we all raise our kids as we see fit, whether it is sleeping with them until they are 5, or putting them in a crib at 3 months. It was like a slap in the face when she said
"What if we talk more about helping parents to support one another through the challenges of raising children, and less about criticizing those who have different ideas about how to nurture their children? Why is our society so concerned and fascinated with parents who (in society's opinion) "over" parent (the "helicopter" mom, "hockey-dads", over-scheduled kids, extended-breastfeeding) , rather than focusing more on those who "under" parent?"
I am totally guilty for judging other parents for the way they nurture and raise their children, and I need to open my eyes and shut my mouth.
So with that said, please discuss in the comment section...I look forward to hearing what you have to say about all of this!